When:
September 11, 2020 @ 6:30 pm – September 13, 2020 @ 4:30 pm
2020-09-11T18:30:00+02:00
2020-09-13T16:30:00+02:00
Where:
Clermotel
60 rue des buttes 60600 Agnetz France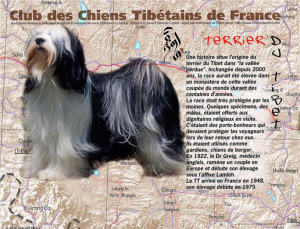 TIBETAN TERRIER WORLD CONGRESS 2020 PROGRAM
Friday 11 september 2020 -18.30h – 20.00h
Welcome drink and canapés reception offered by the CCTF (Club des Chiens Tibétains de France) to all registered participants in the World Congress on Sunday 13 september at the hotel-restaurant CLERMOTEL 60, rue des Buttes 60600 AGNETZ Phone: +33 (0)3 44 50 09 90 Email: info@clermotel.fr See rates and details on the attached booking form. Free dinner. Possibility of catering on site at Clermotel.
Saturday 12 september 2020 -8.30h – 17.00h
CTF Special Breed show with attribution of the CACS of SCC to the room at the "maison de la chasse et de la nature" 155 Simeon street Guillaume de la Roque 60600 Agnetz This room is 450 meters from Clermotel. On the Club show booking form you can order sandwiches for the day of the show. Drinks will be available on site without reservation.
19.00h – 21.30h Gala dinner at the Clermotel's restaurant. Reservation on the Congress booking form.
Sunday 13 september 2020 -10.00h – 16.30h
Tibetan Terrier World Congress. Registration on the attached booking form. The World Congress agenda will be published as soon as possible
For full information please check out the event documentation.